my legs are blindingly bright. lobster red doesn't even begin to describe them. our outing yesterday to a rome braves game resulted in my thighs and face getting sunburned while the rest of my legs stayed pale. i've been smothering my legs in aloe vera, but that hasn't done much to ease the pain.
at least the game was worth it. it was a nice day, albeit very hot. we had fantastic seats in the seventh row right behind home plate. there were scouts clocking pitches and scoring the players sitting right behind us, which was pretty neat. a few others rating the opposing team were sitting a couple rows ahead of us.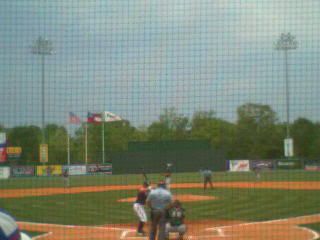 the game lasted 10 innings after the braves blew a four run lead. oh well. it was still fun. we walked around a lot and moved out to the patio and home run hill in the outfield for part of the game. it was just wasn't as exciting as the atlanta games. minor league games never are. but that's ok. they're fun in their own way.