let me just say that our girl's night out was *much* tamer than the night the boys had in athens. first, dave was fitted with a "bachelor gone wild" t-shirt. all night, the boys stopped people (read: women) everywhere and anywhere — on the street, in the restaurant and bars, etc. — to write marital advice on the shirt. dave also wore a nice little pink sombrero, had some fake "bling" around his neck and walked with a cane. oh yes, and let's not forget the ball and chain joe bought him that he attached to his leg.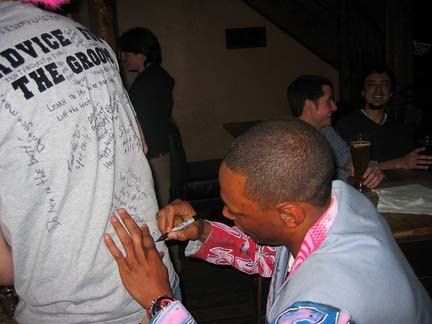 i wish i had seen them walking down the streets of athens. joe said that most people moved over to the other side of the street to walk around them. haha.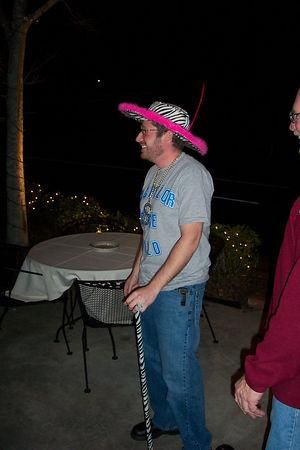 the first stop of the night was an italian restaurant where the boys were saddened to find that they had the only male server (poor, poor babies). then it was off to a bar for shots and drinks, and then on to a strip club. from what i've heard there were more attractive women at the club *we* went to than theirs. joe said he spent a lot of his time there standing in the hallway talking with another guy at the party (good boy). after the strip club (which they weren't at for long, surprisingly) it was off to two more bars and then to a diner to add some food to the alcohol in their systems.
then it was off to bed. oh what a night.