This is a Sponsored Post written by me on behalf of Dove Ice Cream. All opinions are 100% mine.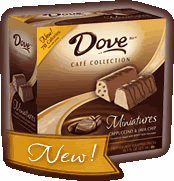 Now that I'm a Mom, finding time for myself is pretty rare. Not that I'm complaining because when I'm not at work I want to spend all the time I can with my little girl, but every now and then it's nice to get some alone time for an hour or two. My mini moment, as alone time can be called, is a typical girly activity — getting mani/pedis. I love getting my nails done, and doing so makes me feel more put together and less like a "mom".
And, lucky me, spa services for a year are just one of the prizes being awarded through Dove Ice Cream's "My Mini Moment" contest. The other two prizes are a mini-getaway to the Napa Valley and a mini-home makeover. You can enter by submitting a photo and short essay at DoveIceCream.com/myminimoment by June 7, 2010. I definitely would want to win the spa services for a year, although the other two prizes are pretty tempting as well. I love the Napa Valley, and I definitely would love a home makeover! However, I'm definitely leaning toward the spa services. That's something I think every mom needs to make time for.
So, what about you? If you enter, which prize would you want to win?