i have too many shoes. either that or my closet is too small. i was tired of seeing a pile of shoes on the closet floor, so i decided to organize them this morning. i put most of my tennis shoes on the shelf next to the towels, and then began lining up my dress shoes and work shoes. i even threw some out that i don't wear anymore, and the rows still almost cover the closet floor.
speaking of shoes, i bought my wedding ceremony shoes saturday night. i kind of wanted something a little dressier for the ceremony, and i know joe did, so off i went, back to the store i bought my wedding flip flops from. i tried these shoes on last week, and i absolutely loved them.

they're comfy because they have the style of a flip flop, but they're much dressier. the heel is not too tall, but it's narrow, so i'm going to have to practice walking in them.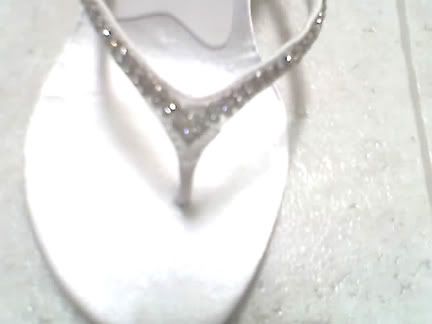 i just love these shoes! i keep picturing how they'll look with my wedding dress. sigh. i wish september would get here more quickly!