we had a fantastic christmas. joe and i headed up to my parents' house for christmas eve for our traditional chow mein dinner. i took the peppermint cake i made, and everyone just had to try it, even though it was meant for christmas day. it was delicious, if i do say so myself. 🙂 i put a little bit of peppermint extract in the batter as well as the frosting, so it tasted really good.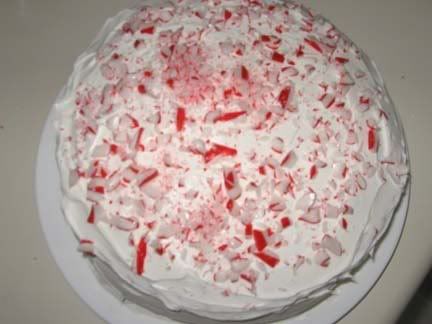 after dinner, we opened presents. my parents got me a digital picture frame, which is really cool. you can download the pictures from the cameras memory card onto the frame, which is much more handy then having to leave the memory card in it. my parents also gave me a little digital video camera. it's really cool. it's small enough to fit in my purse and has a built-in usb port that pops right out to hook up to the computer. we really wanted a video camera, so this was awesome. it holds 30 minutes at a time, but it's perfect for what we need right now. we're going to get a nicer one once we start our family.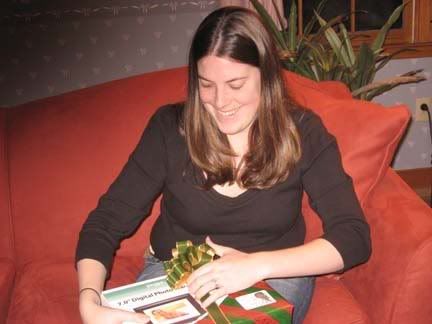 on christmas day, joe's parents came up for dinner. it was really nice, and our parents get along really well, so everyone had a lot of fun. it also was nice for joe's parents to meet my grandparents. they didn't get a chance to actually meet at the wedding. hehe.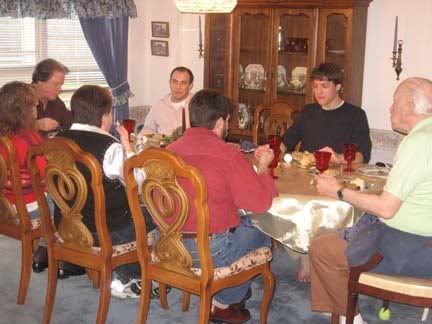 after dinner we all sat around and talked for several hours. joe's parents had to head back and forgo our movie tradition, and joe and i skipped out too since it was already 5 p.m. and i still had to go to work once we got back to cartersville.
this week, joe and i are both off work. we don't go back until next wednesday, which is really nice. today we used the gift cards we got in our stockings and had lunch at cracker barrel and then went shopping at walmart to pick up some things we needed for the apartment. our plan now is to relax and get ready for our new year's eve party. the other highlight of the week is friday when joe is picking up my parents' china cabinet. yay. i finally will have a place to put my dishes. our kitchen is tiny, and there isn't enough cabinet space for dishes and glasses. i don't even have cabinet space for food. i have a tiny little pantry for that, and there isn't even enough room in there since i also have to use it to store baking dishes. blah. so the china cabinet may make my dining room a little more cramped, but it will be very, very welcome.