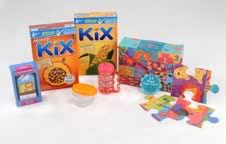 My kid is a cereal ADDICT. There are some days when we can't get her to eat anything BUT cereal. We started her out on Cheerios, but now her favorite cereal is Kix. Seriously, Lucy has to have Kix with every meal. It cracks me up! And, I have to admit, they are pretty good.
Kix and MyBlogSpark are giving one of my readers the chance to win two boxes of Kix for their child/children along with a "Kid-Tested Mother-Approved" prize pack with some really great things! And, make sure you check out www.kixcereal.com for special offers toward your purchase of Kix!
What you win:
A Kix prize pack that includes two boxes of Kix, a sippy cup, a snack container, a large floor puzzle and flash cards.
How to enter:
1. Leave a comment telling me what your kids' favorite cereal is.
2. The giveaway ends at 5 p.m. EST on Monday, Dec. 6.
3. The winner will be notified by email and will have 48 hours to respond.
Extra entries:
1. Write a blog post about this giveaway and link back to it — 5 entries
2. Tweet about this giveaway — Win a Kix prize pack from @cadifi http://tinyurl.com/25dm79p (please leave either your twitter ID or the url of your tweet in your comment) — 1 entry a day
Pleave one comment per entry, i.e., five comments for a blog post, one comment per vote. Remember to come back every day and enter to increase your chance of winning!
This giveaway is sponsored by Kix and MyBlogSpark. I was given a gift pack for this giveaway.