two years ago today, joe and i went on our first date. i still remember every detail about that night. i remember what i was wearing. i remember how nervous i felt when joe arrived to pick me up. i remember wondering if he was going to hold my hand while we watched Bridget Jones' diary 2. i remember having a fun dinner at chilis with our friend stacey and her then-boyfriend. and i remember relaxing back at my place and talking.
two years later, i still love every minute with my husband. i knew from our first date that i was going to marry him, and every day with him is better than the last. i can't wait to experience everything with him and grow old with him. i love you, joe.
***
we celebrated our anniversary over the weekend. we had dinner at olive garden, and joe surprised me with the game "deal or what?", a spin-off of deal or no deal.
joe looked hilarious with his soulpatch to resemble howie mandel. he also enjoyed doing the "after the break" point that howie tends to do.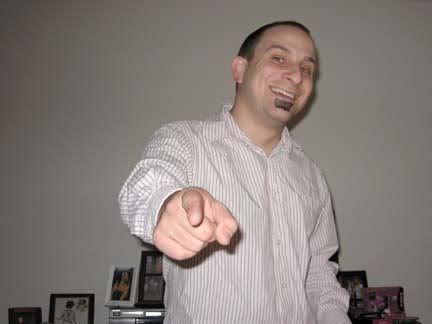 the board was filled with many great "prizes" and a couple of not-so-good ones, like watching football. i, however, suck at this game. i picked off most of the prizes on the right side of the board which, if you watch the show on television, you know are the best ones. joe had made 20 "briefcases" with a prize written on each one.
even though i did terribly, the banker still offered me what i wanted: a new purse.
so on december 1 we're headed to dawsonville to shop at the coach outlet. woo hoo! i love anniversaries. 🙂
Hi! I'm a wife to a wonderful husband, mom to a beautiful and active (to put it lightly) kiddo, and fur-mom to 3 crazy cats. I'm a former journalist. I quit my full time job two years ago. Now, I am a freelance writer and a virtual assistant for several bloggers!