and now, as if you don't have *enough* pictures to look at, i have our honeymoon pictures and story.
we flew into boston on monday, and, after spending an hour on the tarmac, got a cab to head to our hotel. when we arrived, the desk clerk told us he didn't have our reservation. we had booked it online through expedia, and apparantly expedia didn't pass our information along. while joe talked to him, i called my parents and had them fax our hotel info. we got it worked out and, after we mentioned being on our honeymoon, were upgraded to the top floor (where the rooms are about $100 more a night then we paid), the gold crown floor, where we could have our breakfast delivered to our room every day.
we spent most of tuesday at faneuil hall. it was a large marketplace, and i had fun going from store to store and kiosk to kiosk. we had a caricature of us drawn, and bought most of our souvenirs. it was nice to get that out of the way.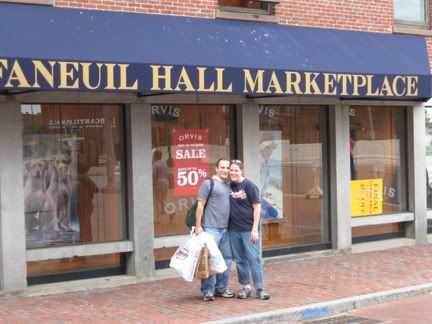 after we got back to our hotel, we threw on our red sox gear and headed off to fenway park. our hotel shuttle dropped us off a few blocks from the stadium, and as we walked a woman stopped us and asked us for directions to the ballpark. it was so funny to think that she thought we were bostonians. we arrived at the park several hours before the game was scheduled to start, and there were already lines at all the gates.
here's my handsome hubby in front of fenway park.

a shot of fenway.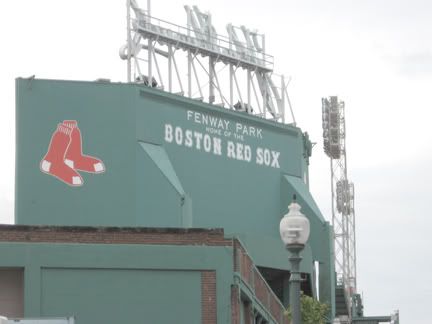 here i am standing in front of a statue of ted williams.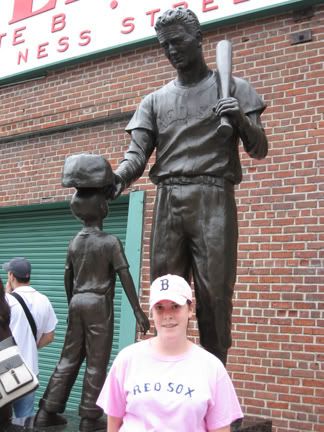 finally, we got in, and immediately made our way to the field to see the green monster. i know this was the highlight of the trip for joe. it was so much fun to see him so excited. he's always wanted to go to fenway, and i am so glad i was able to experience the trip with him.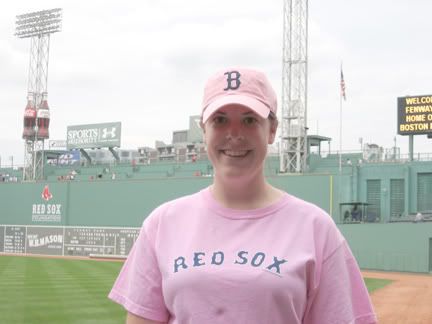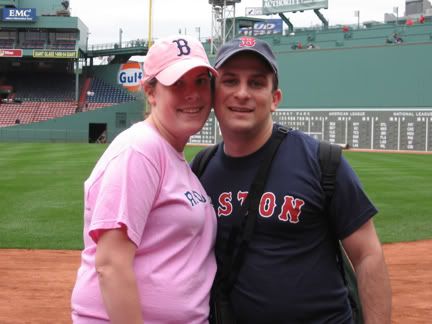 joe called his friend, tim, who is another huge baseball fan. "hey, it's joe. can you hear me? it's really loud here at FENWAY PARK, so i hope you can hear me since i'm at FENWAY PARK…" hehee. joe got a nice little call back from tim. 😉
we arrived early to watch the teams warming up and try to get some autographs. the red sox weren't out on the field, but the white sox were, so we headed over to the left field side to see if anyone would sign our program.
i am waiting for one of the players to come over.

this is white sox pitcher john garland signing my program.

fenway park is so different from turner field here in atlanta. the first thing we noticed was the difference in the fans. at turner field, the games are more geared toward the fans with tons of giveaways and games. at fenway, it's all about the game. we were amazed at the conversations of the people sitting around us. instead of talking about work they were completely consumed with baseball. "who's in right field today? is it trot?" it was really cool.
it was also packed at fenway. turner field is never sold out. we had trouble even getting tickets to the game. and, when it started to rain, the people sitting out in the open simply put on their rain coats and ponchos or opened their umbrellas. in atlanta, they stampeded toward the door once the rain starts to fall.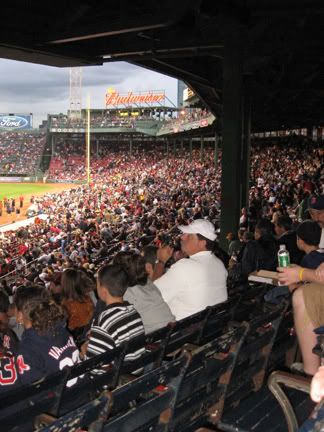 the scoreboard is neat, too. it's not electronic, so there is a man who stands behind it updating not only the game score but the scores of all the games being played that night. we saw his head through one of the holes a few times during the game.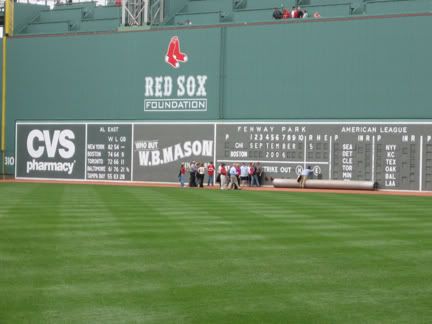 we had fantastic seats, right behind home plate. we sat next to a man who is from chicago and has white sox season tickets. again, we're not used to fans flying around the country following their teams.
and, of course, we had to get pictures of david ortiz.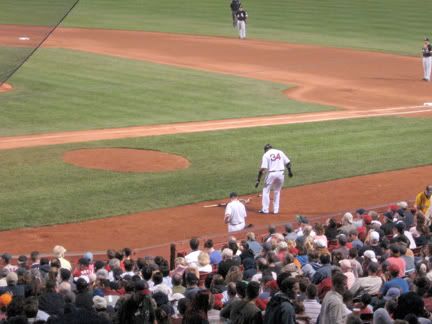 here's a funny story from the game. kevin youkilis was the leadoff batter, and every time he came up to the plate it sounded like the crowd was booing him. finally, joe asked the woman sitting next to him why no one liked him.
"we love *all* the red sox," she replied.
"then why are they booing him?" joe asked.
the woman started to laugh. "no, no, no. she said. they're saying "yoooou" for youkilis."
the next time youkilis came to the plate, joe chanted along with the crowd. it was a fun night.
Hi! I'm a wife to a wonderful husband, mom to a beautiful and active (to put it lightly) kiddo, and fur-mom to 3 crazy cats. I'm a former journalist. I quit my full time job two years ago. Now, I am a freelance writer and a virtual assistant for several bloggers!