I've totally gotten the redecorating bug. Even though we have other priorities right now and this is on the back burner, I still love looking at ideas for things I could do with our house. Once we get pregnant and have the baby, our next priority is to close in our carport and turn that into a bonus room. I actually want to extend it a little farther up our driveway, which would not only make it bigger but it would give our house a different style than the plain ranch style it currently is. I think it would make it much cuter, even though it's already the cutest on our street!
That work most likely won't be done until after we get out of this recession since we'll need to get a loan for it, but that's not going to stop me from starting to think and plan and look at ideas. I love browsing online and looking through galleries, like Inviting Home's gallery, because they give me so many ideas and make me think of things I otherwise wouldn't have. For example, check out these wall sconces. I love wall sconces, and that's such a classy way to use them. I don't know how it would work in our current house, but it's definitely an idea for when we upgrade.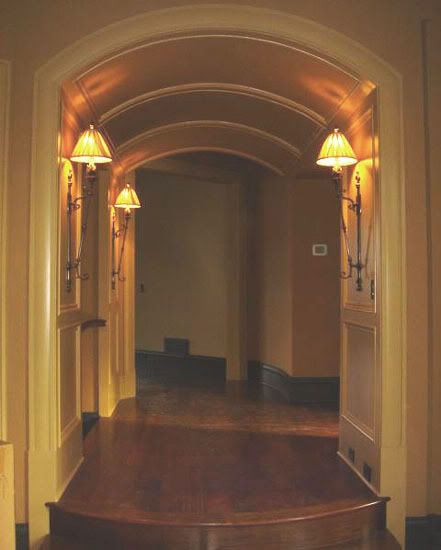 Besides the addition, I really want to put a window seat in our living room. I've always loved them, and I think one would look super cute there. Plus, it would give us more seating, since we plan to get rid of our sectional sofa (which our cats have torn up) and get a regular couch instead. I also think it would be neat to put some corbels in our kitchen but, since we don't have an island, I'm going to have to think of a creative way to do that. I think corbels look so elegant, though. And, as if all that isn't enough, I've been thinking about putting some crown molding up against our ceiling, at least in some of the rooms. I think it would make them look much more decorative.
Wow, that's an exhaustive list! It's a good thing we have a while to plan. I'm sure I'm not the only one who's got decorating on the brain. What are some things you'd like to do to your house?
Hi! I'm a wife to a wonderful husband, mom to a beautiful and active (to put it lightly) kiddo, and fur-mom to 3 crazy cats. I'm a former journalist. I quit my full time job two years ago. Now, I am a freelance writer and a virtual assistant for several bloggers!