we've started doing our wedding registries! it's so much fun. we went to target last saturday night, and joe had *way* too much fun with the scanning gun. he'd hold it with both hands and shout, "duck! duck!" and then pull the trigger. it was hilarious. he's really enjoying the registering though, which is nice. one of his friends is getting married in march and his fiancee has gone to register alone. that would *not* make me a happy camper!
today we were at the outlet mall in calhoun and decided to register at mikasa. i *love* mikasa. we mainly went for our formal and casual dinner sets, which i really hope we get.
this is what we picked for our formal china. it's called cameo platinum, and we love the simplicity.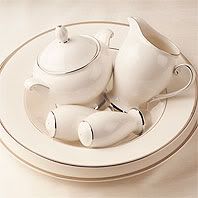 and this is what we chose for casual diningwear. i loved the style of the mugs and bowls, which is what sold it to me. hehe.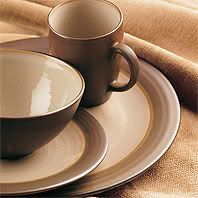 Hi! I'm a wife to a wonderful husband, mom to a beautiful and active (to put it lightly) kiddo, and fur-mom to 3 crazy cats. I'm a former journalist. I quit my full time job two years ago. Now, I am a freelance writer and a virtual assistant for several bloggers!