i have never gone to anything like zach's bar mitzvah before. we hit the road around 8 or 9 p.m. and arrived in columbia, s.c. well after midnight.
Saturday morning was the bar mitzvah service. It's just like a typical church service, joe told me. it was interesting for me to see a service, hear the torah readings in hebrew, etc. after two hours, joe and i left for a bathroom break. from the hall we could hear zach talking. it's almost over, joe said.
an hour later, the service ended. conservative services normally last a lot longer than reform services, but it was still very interesting to me.
we went back to our hotel room, snacked (there wasn't much at the lunch) and took a quick nap. then we were up and getting ready for the party. or should i say i was getting ready for the party. for once joe's sister was done before me, but i attribute that to the fact that i decided to curl my hair.
it was quite the party — very, very fancy. a professional photographer was there taking family pictures, and she took one of me and joe as well. we all stood out in the foyer of the convention center mingling and finally were allowed into the dining hall. it was absolutely gorgeous. the lights were low and there were circular tables throughout the room around the dance floor. food stations were situated in each corner. in italy we could choose from pesto pasta, marinara pasta and fettucine alfredo. china had eggrolls and a few other dishes. in new york, there was green beans, roasted potatoes and meat. it was amazing. joe's sister, rachel, and i told the server at the italy station that we'd just move our table over to him.
here's a picture of me and joe. i seem to blend into the background.

and here is rachel and her fiance, dave.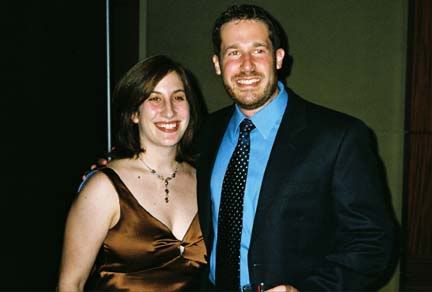 joe and i bought strobe light rings for the four of us, and we wore them all night. we call them our power rings. dave and rachel took a picture, which i will post when i get it.
Hi! I'm a wife to a wonderful husband, mom to a beautiful and active (to put it lightly) kiddo, and fur-mom to 3 crazy cats. I'm a former journalist. I quit my full time job two years ago. Now, I am a freelance writer and a virtual assistant for several bloggers!