this is what i saw on my way to work today.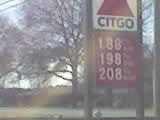 at the gas station at the end of the road, which is no more than a mile away, regular gas was $1.96. it was $1.88 yesterday. that's a big overnight jump! needless to say, i turned my little ford mustang around and drove back to the citgo to fill up. i have a feeling the price will be much higher this afternoon.
Hi! I'm a wife to a wonderful husband, mom to a beautiful and active (to put it lightly) kiddo, and fur-mom to 3 crazy cats. I'm a former journalist. I quit my full time job two years ago. Now, I am a freelance writer and a virtual assistant for several bloggers!