This post brought to you by Leviton. All opinions are 100% mine.
Renu, comes in. I really want to work on our living room. Once we actually move our china cabinet to our storage unit and our TV over to where our china cabinet is, I think we can really start working. I want to get new curtains, hang a collage of frames on one wall and some canvas prints on another. And, I would love to redo our wall plates and switches, maybe by putting in some dimmers or something like that.
This is a picture of our living room taken when we first moved in. We've since gotten a new couch, which is against the window, and gotten rid of the coffee table.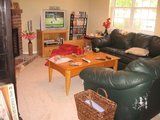 I would love to add a switch or wall plate that's not quite white but maybe more of a creamish color. I wonder how that would look against our walls when we paint them. It's available in 20 paint colors, so there's something to go with every color scheme.
Renu is hosting three Twitter parties — on April 18, April 26 and May 2 — and you can participate by following @Leviton and #Renu. There also will be some Home Depot gift cards up for grabs! And, make sure you "like" Leviton on Facebook!
Hi! I'm a wife to a wonderful husband, mom to a beautiful and active (to put it lightly) kiddo, and fur-mom to 3 crazy cats. I'm a former journalist. I quit my full time job two years ago. Now, I am a freelance writer and a virtual assistant for several bloggers!