i'm so sick of being sick. today i've had the most horrible, pounding sinus headache and nausea. i had to go into work this morning, but since then have been curled up in bed watching big love, which we rented from blockbuster. that's actually a pretty good show.
joe headed up to blue ridge to see his family yesterday. i'm glad he got a chance to see them, but it sucked that i was stuck here. his mom sent us a lot of leftovers, including this incredible pumpkin bread that her cousin terri made and some yummy mint brownies. mmmm. 🙂
thanksgiving day was a lot of fun. we arrived at my parents' around 11:30 and helped my mom with the last minute preparations. she made a lot of the food the night before, so it wasn't as rushed this year. thanksgiving and christmas dinners are the two meals i look forward to every year. we have the same thing, but that's ok because it is so yummy.
we had vegetarian turkey slices with stuffing.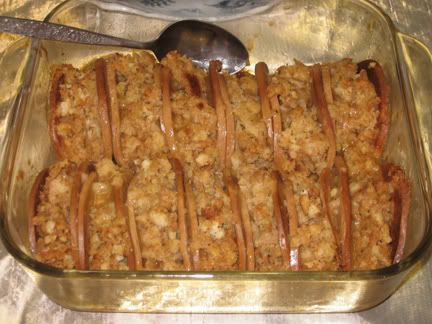 wild rice with fri chick (another vegetarian meat).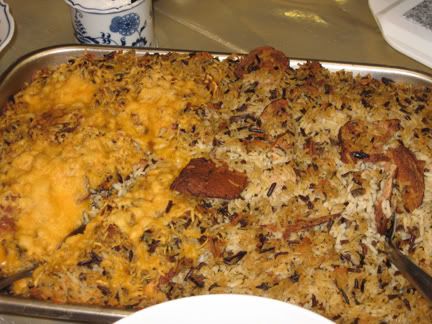 my mom cooked a turkey breast for joe. i told him he should be worried about a vegetarian cooking a turkey. but it turned out very well. i even had a bite, and it was yummy. apparantly, this is the first time joe carved a turkey. i wish he had told me that while he was doing it so i could take a picture.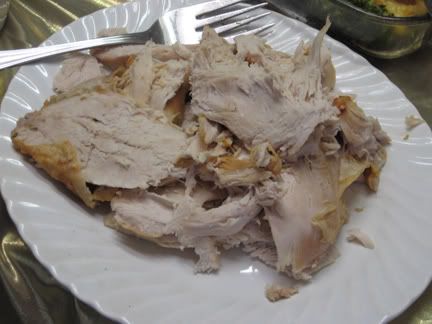 Hi! I'm a wife to a wonderful husband, mom to a beautiful and active (to put it lightly) kiddo, and fur-mom to 3 crazy cats. I'm a former journalist. I quit my full time job two years ago. Now, I am a freelance writer and a virtual assistant for several bloggers!