i'm glad i started my holiday shopping early.
i bought what i thought was a pretty cool present for my mom. i found this family star ornament that had a big star with the family name and smaller stars with all of our names dangling from it.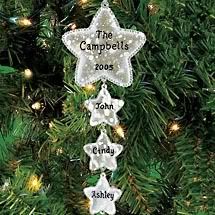 however, when it arrived it wasn't what i had in mind. in fact, it was crap. our family name was not possessive, and all the names were handwritten with a sharpie. most of our names were off center. i could have done a better job myself.
i'm going to try to return it tomorrow. they better take it back, because i cannot give my mom a present that looks that bad.
Hi! I'm a wife to a wonderful husband, mom to a beautiful and active (to put it lightly) kiddo, and fur-mom to 3 crazy cats. I'm a former journalist. I quit my full time job two years ago. Now, I am a freelance writer and a virtual assistant for several bloggers!