i am still on a high following cal ripken, jr.'s election to the baseball hall of fame. i never doubted for a second that he would get in, yet at 2 p.m. on tuesday i was on major league baseball's web site listening to the results from hall of fame president dale petrosky.
this is one of my proudest moments as an orioles fan. i followed cal through most of his career, watching from box seats at oriole park at camden yards, and then on television when we moved to tennessee. one of my biggest moments, though, was getting to meet him at turner field when the orioles played in atlanta on his farewell tour. that was one thing i never thought i would be able to do, and the opportunity to meet the man i've looked up to and admired my entire life was incredible.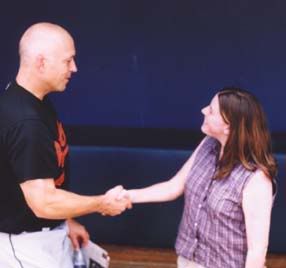 he took a genuine interest in me, too. i took a copy of a column i had written about him for the newspaper i was working at, and he began reading it while i was there, telling me he'd finish it "while i ate my pizza".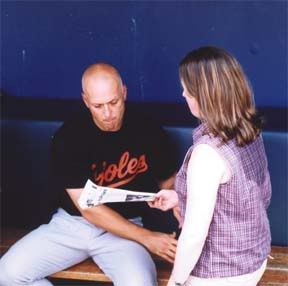 that's one thing about cal ripken. he takes time for people. he took time to talk to me in the sweltering summer heat after a press conference. he took time before games to sign autographs for fans while the other players relaxed in the cool clubhouses. he loves the game, and he loves his fans. and, when it all comes down to it, it's all about the fans.
so, in just a few months, i'll be seeing my hero again, this time as he completely finishes his career and takes his spot among the other baseball greats. i wouldn't miss it.
Hi! I'm a wife to a wonderful husband, mom to a beautiful and active (to put it lightly) kiddo, and fur-mom to 3 crazy cats. I'm a former journalist. I quit my full time job two years ago. Now, I am a freelance writer and a virtual assistant for several bloggers!