This is a Sponsored Post written by me on behalf of Quiltcreator. All opinions are 100% mine.
I love quilts. I've always thought that a pretty quilt would look nice on a guest bed. There are only so many options you can find pre-made, though, so when I found www.quiltcreator.com, I thought it would be neat to design my own quilt and see what I could come up with. There are four options for infant quilts, and a few more for regular quilts. I chose The Vineyard Quilt, which I thought was pretty, and the Vintage Reds fabric. I've always wanted to do a room in red, and I *love* the patterns available. This is the one I designed: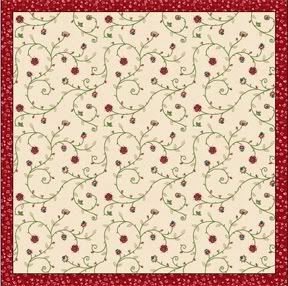 I think it's good for a first try! Here's a sample of one I really like in red from Quilt Creator's Facebook page: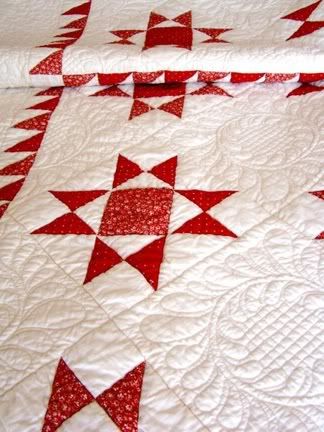 The prices aren't too bad at $129 for infant quilts, from $179-$279 for regular quilts and from $199-$279 for bedspreads. I don't think a quilt is something I would use in my bedroom, but it's definitely something I want for our next guest room, which we'll have when we buy our next house. Creating my own quilt online was a lot of fun, and seeing the reds in it and in other quilts that already have been made really makes me realize how much I want to do red in that room.
How about you guys? Do you use quilts in your house or do you want to? Are you going to create your own quilt? If you do, make sure you share pictures!
Hi! I'm a wife to a wonderful husband, mom to a beautiful and active (to put it lightly) kiddo, and fur-mom to 3 crazy cats. I'm a former journalist. I quit my full time job two years ago. Now, I am a freelance writer and a virtual assistant for several bloggers!