those are few and far between this week. my house has been in pandemonium since the arrival of joe and dizzy on friday. my boys ran to greet joe, then julius backed off when he saw the diz.
the three cats went into the kitchen where julius followed dizzy around, sniffing his butt, and aj followed suit behind julius. it was quite humorous — a butt-sniffing cat line.
now that aj and dizzy remember each other from past visits to joe's, they've been running all over the house wreaking havoc.
first, aj watched as dizzy staked out the laundry area, looking at what he can get into or knock over.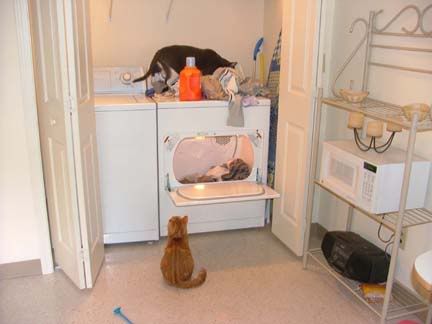 then, dizzy showed aj how to get into the freezer.

finally, they decided to rest together at the top of the stairs.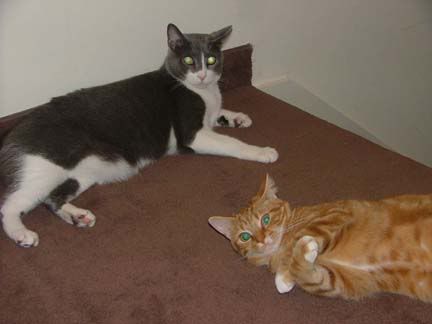 dizzy also decided he likes to sleep on my saucer chair in my office, which happens to be julius' favorite napping spot. so after some hissing and slapping, julius let dizzy use the chair for the rest of his time here and has been moved to the top of my mini refridgerator. poor guy.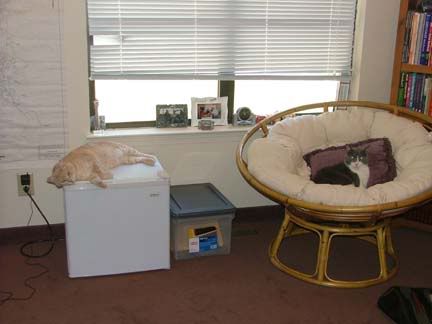 and what have joe and i been doing while he's been here this week on vacation? we've been watching tv and movies, playing video games, reading and laughing at the cats. it's been a fun, fun week.
Hi! I'm a wife to a wonderful husband, mom to a beautiful and active (to put it lightly) kiddo, and fur-mom to 3 crazy cats. I'm a former journalist. I quit my full time job two years ago. Now, I am a freelance writer and a virtual assistant for several bloggers!