i've always looked up to cal ripken jr. i grew up outside baltimore, and my family got orioles season tickets every year. Each spring we'd make the 20 minute drive into the city and trek to camden yards, which i believe is the most beautiful baseball stadium, to watch "my boys" play.
and for some reason, cal ripken became my favorite player. i followed his record in games, i collected his baseball cards. my one wish was to meet this man who earned my respect when he would spend an hour or two in the sweltering sun before each game signing autographs for fans while the other players relaxed inside.
in july 2001, i got my chance. it was cal's last season playing, and his farewell tour was scheduled in atlanta (thank goodness for interleague play!). i had to go. i wrote a column about how i looked up to him for our sports section, and then pitched the idea of covering his press conference and game in another column to our sports editor. he made a few calls and secured press passes for me and matt, my photographer.
fast forward to july 12, 2001. i'm speeding down the interstate, stressing out that w'd be late and miss the press conference. matt is watching my spedometer reach 90 and is flipping out.
we get to turner field and are taken down into the bowels of the stadium to head to the dugout. i sit down, and when cal comes in to answer our questions, i'm just inches in front of him. it was amazing. but i still wanted to talk to him.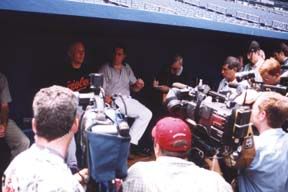 i approached cal's publicist. i'm a baltimoran, i tell him. i grew up watching cal play both in person and on tv. i wait. the publicist smiles. cal would love to meet you, he tells me.
and then, i was talking to him. definitely one of the best experiences of my life. we weren't allowed to have posed pictures taken, so matt was at the top of the dugout shooting away as cal and i talked.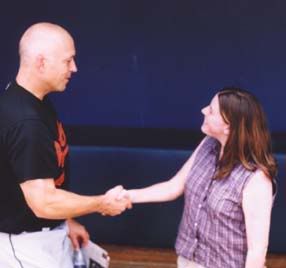 i gave cal a copy of the first column i had written about him. "this is nice," he said. "i'll read it while i eat my pizza."
that made my day.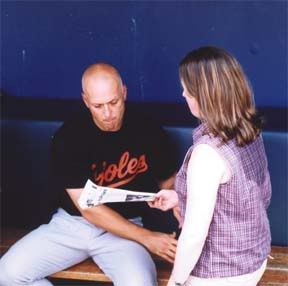 our press passes allowed us access to the field and the press box, so after going up to the stands to visit my family who drove down for the gama and getting something to eat in the press box, i watched the game from the orioles dugout, no more than five feet from cal the whole time.
that was the best baseball game i've ever seen.
Hi! I'm a wife to a wonderful husband, mom to a beautiful and active (to put it lightly) kiddo, and fur-mom to 3 crazy cats. I'm a former journalist. I quit my full time job two years ago. Now, I am a freelance writer and a virtual assistant for several bloggers!