we hobnobbed with the braves last night.
as a writer for choptalk, the atlanta braves' official magazine, joe was invited to the braves' 400 club's annual banquet, and i was able to go as well. it was at a really nice hotel in atlanta and, despite my toe poking through my hose (i *hate* pantyhose…if it hadn't been 30 degrees outside i wouldn't have worn any!), it was a fabulous night.
we paid $13 for a beer and glass of wine (yes, $13 freakin dollars. man.) and perused the silent auction items. i was hoping for something signed by jeff francoeur, my new favorite brave, but he was not among the players' autographed items up for bid. we bid on several items, including hats signed by three players (joe really wanted one to give his friend tim as a wedding present), a baseball signed by pete orr and a baseball signed by sid bream. i staked out the hats at the end of the auction, but an old man hovered over the bidding sheet, spending two minutes writing his name and bid amount so no one else could bid. sigh. at least we won the two baseballs. or so we thought.
after the program, we headed out to claim our balls, but after joe paid we realized the sid bream ball was missing. "someone must have walked off with it," one of the men said. not surprising. no one was watching the two tables the items were on, so it wouldn't have been that difficult. we took home our pete orr ball, but joe was still bummed because he's a sid bream fan, and he was really proud to have won the ball.
this afternoon, however, while we were at david's bridal getting rachel's (his sister) bridesmaid dress for our wedding (one down, five to go! they all opted to get the dresses now because they're on sale until next weekend, saving them about $30), someone from the 400 club called joe and said they had his ball! apparantly the person who won the chris reitsma ball picked up the sid bream ball by mistake. it should be in the mail to us in the next day or two. yay!
there were two braves players at the banquet, and after dinner we had a chance to meet them. brian mccann is a rookie catcher who ended up starting most of last season because starting catcher johnny estrada (now on the diamondbacks…sigh…) was injured.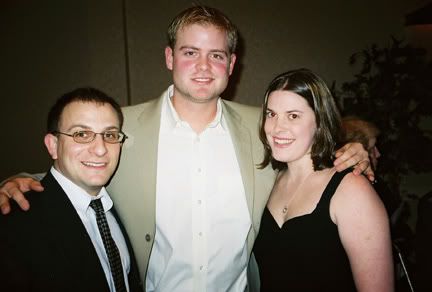 we also met kyle davies, a rookie who ended up being one of the braves' starting pitchers last season as the regular starters were plagued with injuries.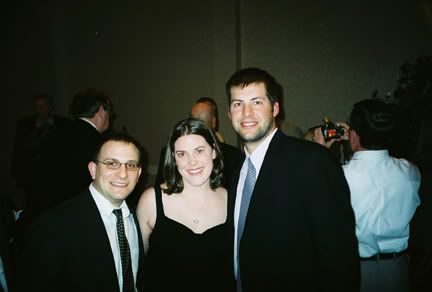 they were really nice. we got our tickets signed, and we're putting one in our scrapbook, and we're going to frame the other with their baseball cards. once we get a house we're going to start a "sports room" of memorabilia, such as the baseballs and pictures.
and rachel was right…baseball players *are* taller in person. hehehe. 😉