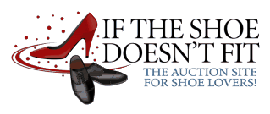 This is a Sponsored Post written by me on behalf of If The Shoe Doesn't Fit. All opinions are 100% mine.
One of my "things" is buying shoes. Whenever I go looking for an outfit, I almost always come away with a new pair of shoes, if nothing else. Shoes are great because they totally make an outfit and they never make you look fat. They're the only things that really pick me up after a depressing day of trying on clothes.
So, imagine my excitement when I found out about "If The Shoe Doesn't Fit", which is like an eBay site for shoes! You can Sell, swap or shop for shoes. You can simply shop or, if you have some shoes that you don't wear anymore and have been wanting to get rid of, you can list them and swap them with another user for shoes that you want! What an awesome idea. I think the swapping aspect will come in handy when Lucy starts wearing shoes. Baby and children's shoes aren't super cheap, and from what I've heard, they go through shoes rather quickly. It would be nice to swap for a new (for her) pair of shoes for her and not pay retail prices.
The site also is very inexpensive. It only costs $1 to list your shoes. That's it. No hidden fees or anything else.
I think this is going to be one of my new favorite sites. Check it out, and let me know what you think!
Hi! I'm a wife to a wonderful husband, mom to a beautiful and active (to put it lightly) kiddo, and fur-mom to 3 crazy cats. I'm a former journalist. I quit my full time job two years ago. Now, I am a freelance writer and a virtual assistant for several bloggers!