we need luggage for the honeymoon. we decided this today after i got one of david's bridal's nice little emails with all the products they sell (isn't it nice of them to send those out?! *sense my sarcasm*). we don't really have any luggage anyway. we always use this old duffle bag i've had forever.
i've decided that this is the set i want. for now at least.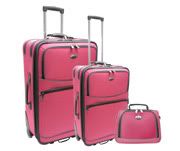 isn't it pretty?? joe says i can get it if i want to lug it through the airports. blah. i guess we might be going with the black after all.