i had a fantastic day yesterday . . . at least for the most part. the wedding shower was perfect, but it ended abruptly when one of my brothers called to let my mom and me know that my grandfather was being airlifted to the hospital. he was climbing up the stairs in the garage to the house and fell, hitting his head on the concrete. the paramedics said the back of his head felt "mushy" (yes, that was the technical term used), so they lifeflighted him thinking his skull possibly was broken. luckily, it wasn't. he has a laceration on the back of his head and a lot of brusing on his back, and his brain is bruised. the hospital officials told us yesterday he would be monitored in icu for two days to see if the bruising gets better or not. if it doesn't, surgery is possible. luckily, they said today he's doing well so far. he's having a second cat scan, but they don't think there is additional bruising or bleeding.
on to more happy news . . . the wedding shower!
my mom and my best friend from high school, penny, planned everything, and they did a terrific job. the food spread looked great, and i had about 13 people here including friends from school, my old job and kiwanis, family and future family, etc.
everyone seems to have had a great time. we played several games: wedding word scramble, a purse scavenger hunt, and "how well does cady know joe." if i answered a question about joe wrong i had to put a piece of bubble gum in my mouth. penny and my mom forgot the gum, so they sent joe out to pick some up. you would think someone who loves you would get trident or chicklet or some kind of gum with small pieces. apparantly not. joe got bubble yum type gum with the *huge* pieces. i only missed four out of 15 questions, but that's four pieces of gum in my mouth! i had trouble talking after two! luckily penny picked the strawberry gum rather than the sour flavor joe also got. i seriously do not think i will ever chew gum again!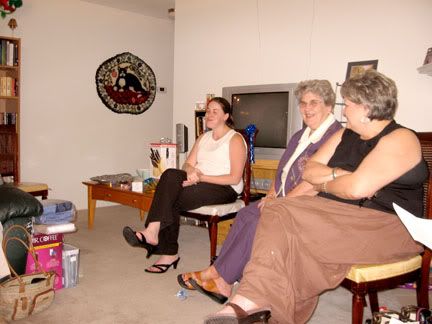 and, of course, there were presents. we really got some great things. my brother, ryan, and his girlfriend gave us an electric wok, which is perfect because we *love* making rice and stir fry. we also got two sets of sheets; two tablecloths; two sets of napkins; placemats; a really nice coffee maker; two sets of silverware; a picnic basket for two complete with wine glasses, plates, silverware and a spot for food; champagne flutes; platters; etc. i was really happy with and grateful for what we received. my favorite presents, however, were from my grandmother. she gave us a plaque that says "cady and joe schulman circa 2006" and she gave the candy dish her mother received for her wedding. that is definitely my most special present because it belonged to my great-grandmother and then my grandmother. i can't wait to one day pass it down to my children or grandchildren.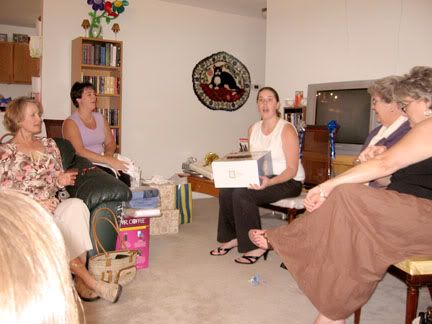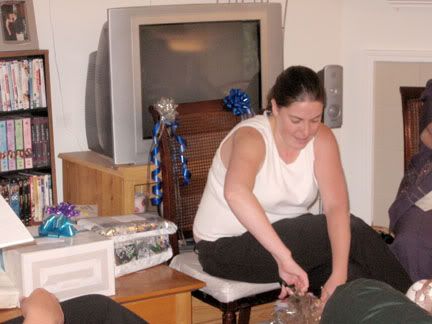 my sister, who was originally planning the shower with my mom, wasn't able to come, but she sent some things she had been working on. one was a piggy bank decorated with a pearl necklace and veil. everyone at the shower wrote advice for us on small pieces of paper and put them in the piggy bank. joe and i read them last night, and we decided we're going to re-read them every year on our anniversary. it was such a cool idea!
now, i must go and begin my thank you notes. luckily, i'm already almost caught up on thank you notes for wedding presents we've already received. we're writing them now, but mailing them after the wedding so we can use our new address labels. 🙂