I FINALLY got this year's holiday card ordered. I've had it finished but just forgot to order it. Hopefully, they will get to their recipients before Christmas! Since we're probably just sending them to family this year, I thought I'd share it with you all. And, since it includes a picture of Darth Vader, it's probably the coolest holiday card ever.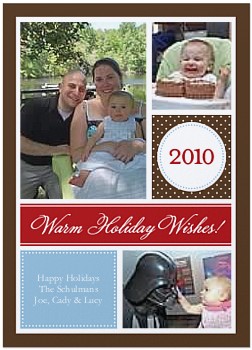 Seasonal Chic 2010 Christmas Card
Happy Holidays from our family to yours!