i went to my first hockey game last night.
the cold air, whooshing of the players as they skated by and the slams as players knocked each other into the plexiglass walls was exhilirating. the tens of thousands of fans jumped and yelled as they banged their inflatable hockey sticks together when the thrashers scored or the rangers got a penalty, and the arena reverberated with boos when the opposite occured. it was the same as other sporting games i've attended, but the speed made it much, much different.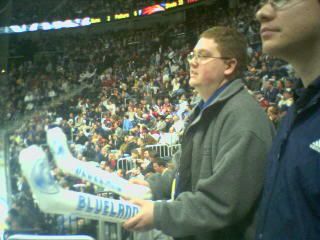 our friend jon with his inflatable hockey sticks.
we sat about six rows from the ice right by one of the goals, which was fantastic when the action was on our end but not so great when they players were on the other side because the plexiglass distorts your view.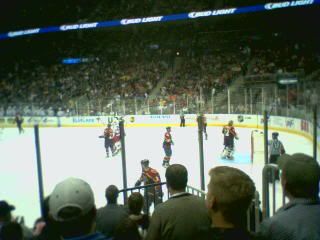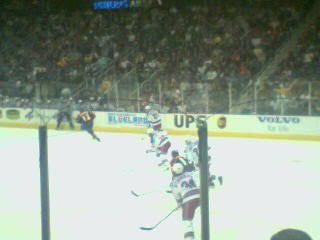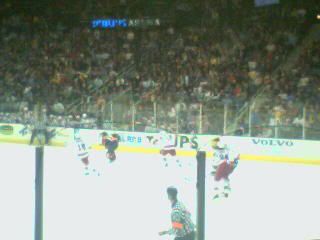 the game was 2-2 near the end, and the crowd was on its feet willing the thrashers to score. they didn't, and it was onto overtime.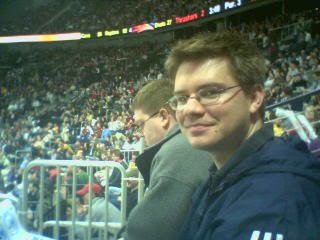 joe's friend brandon, who also went with us.
after a scoreless overtime the game went into a shootout. i've never even seen a shootout on tv, but it was pretty cool, and, surprisingly enough, both teams scored two points.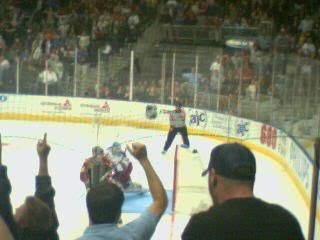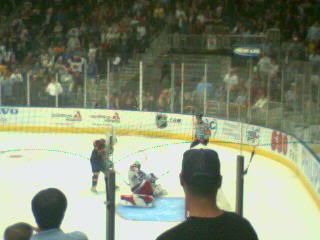 it was down to one team scoring and the other team not. rangers shoot and miss. thrashers shoot and SCORE!

that's the winning shot by hossa.
oh, and we can't forget a shot of the thrasher's mascot, thrash.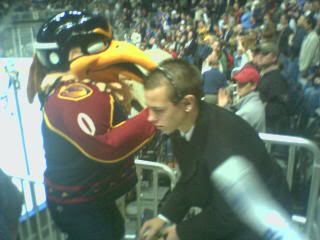 and of course one of us. 🙂