on thursday, we headed across the river to harvard. what a beautiful campus. we felt smarter just by being there. we walked around the entire campus looking for the big "harvard" sign we were sure was there. we never did find it. we did, however find one of many big libraries.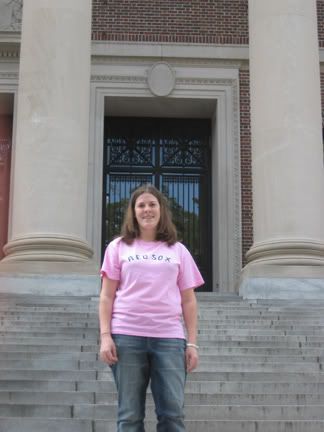 we found many gates leading to the campus.
we also saw the statue of john harvard.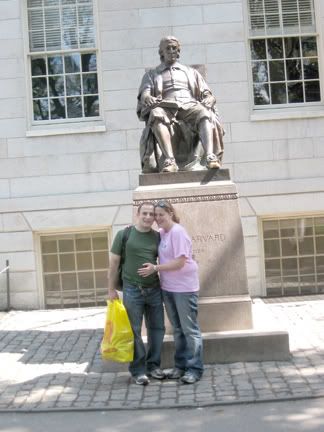 and we just had fun walking around the campus, looking at the buildings and architecture.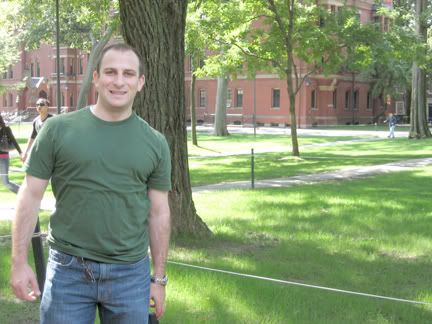 for lunch, we ate at this really cool burger place right across the street from campus. i can't remember the name, but all the burgers had interesting toppings and were named after political figures. i had the al franken. 🙂 and, according to the sign, johnny cash once sat at our table. cool, huh?
we went on a whale watching cruise on saturday. it was a three-hour boat ride, and really was a lot of fun, despite the sea sickness. joe surprised me by having them announce that we were on our honeymoon. that was really sweet.
here we are on the boat. do i look like a tourist, or what?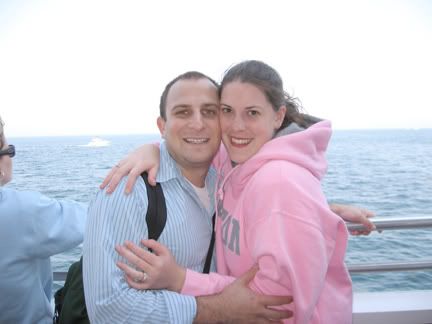 three whales were spotted, including a mother with her calf. most of the sightings were on the other side of the boat from us, but we were able to get some good shots.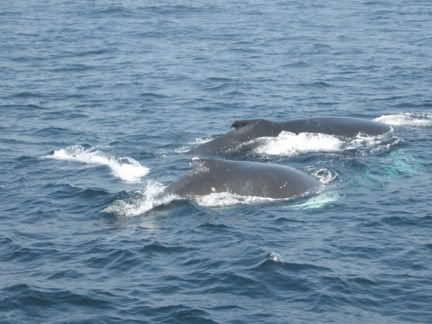 on sunday, we headed out to find boston's historical sites. we took the subway to north boston and walked along the freedom trail. our first stop was paul revere's house. as we were leaving, a man approached with his girlfriend who said, "paul revere's house. does that mean that this is where he lived??" we couldn't stop ourselves from laughing at that.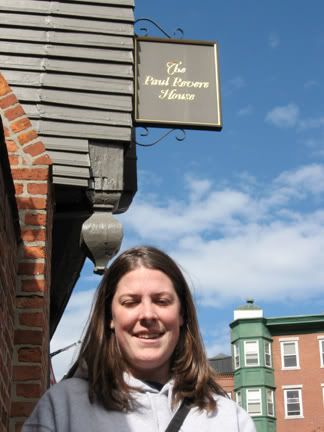 behind paul revere's house is the paul revere mall, a pretty brick walkway with trees and a fountain.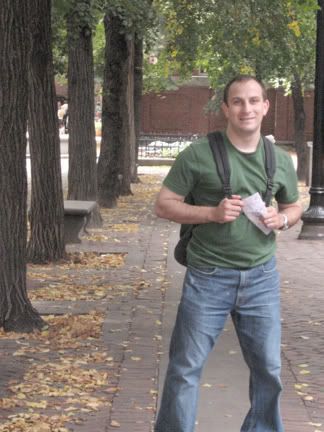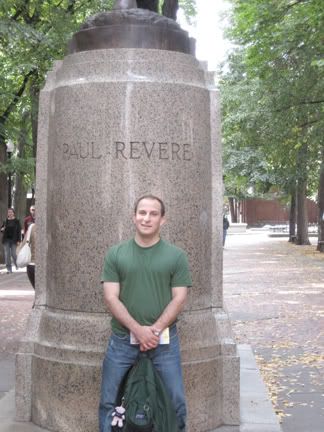 i was a little upset that the paul revere mall wasn't an actual mall. you know me…my mind's always on shopping! here i am looking sad at my discovery.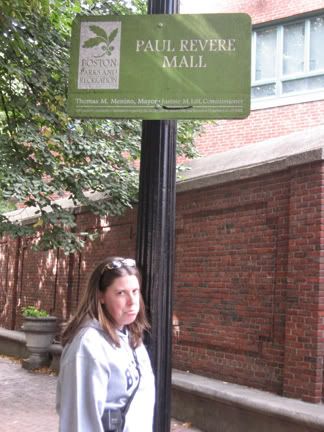 after we left the paul revere mall, we walked past an old cemetery (and i for the life of me cannot remember its name) and then hit the old north church. it was very tall, a lot taller then we thought it would be.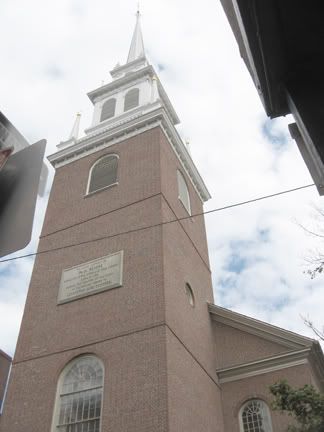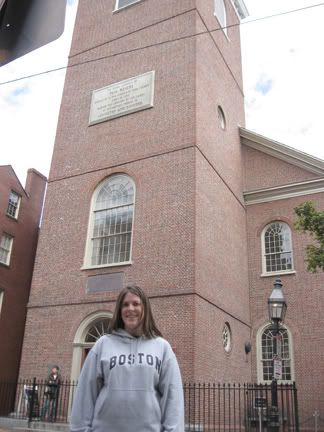 after lunch at a pizza place (we ate pizza the *whole* time we were there. we couldn't find anything *but* pizza to eat!!), we headed down the freedom trail toward the center of boston. on our way, we stopped at the holocaust memorial. i didn't know boston had one, and it was interesting and sobering to read the quotes from concentration camp survivors.
in downtown boston, we stopped by the old state house.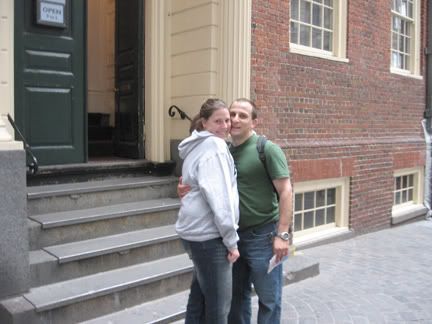 and the old south meeting house.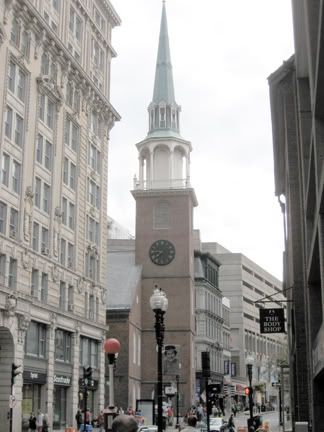 we looked all over for the site of the boston massacre. we kept walking to where it was show on the map, but we couldn't find any signs. finally, we asked a store clerk who told us it was a pedestrian island. we figured it was the island with man dressed as paul revere leading a tour group. this is how it is marked.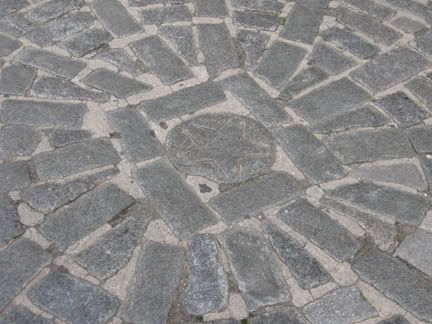 we had a blast on our trip, but i think we were both ready to come home. we weren't ready to go back to reality, so to speak, but we really missed our cats. on our flight back, we had a pilot who i think should win pilot of the year. he was hilarious. while we were on the tarmac and people were reading, he came on the intercom.
"hi. i'd like to welcome you aboard air tran airways. here at air tran, we try hard to keep the cost of flights down for you. in an effort to do this, we're asking that you make a $1 donation to use the lavatory. while we're on the tarmac, and at this time only, we're offering a deal: three flushes for the price of two. please see a flight attendant, and you can make your checks out to the air train flush-a-thon."
i missed a lot of it because i was engrossed in my book, but joe started laughing. then, we heard a flight attendant a few rows up saying to a passenger, "we just came from charlotte and they were really mad. they didn't understand it was a joke."
the pilot came on a little while later to introduce himself.
"hey. this is your captain, luke skywalker, up here in the flight deck with hans solo. we've got chewy on the ground, and he's getting us ready for blast off here in a few minutes. we're going to make a quick fuel stop in atlanta before heading to our destination, alderon. your flight attendants today are c3po, yoda and r2d2."
we were delayed before take-off (again because of construction), so the pilot came back on the intercom.
"well, folks, it looks like darth vader is interfering with our plans here today…"
when we arrived in atlanta, we were again delayed on the tarmac because of — you guessed it — construction. when we finally were able to pull up to a gate, and the seat belt sign was turned off, the pilot said, "please rise." on our way out, the flight attendants said, "may the force be with you." what a great way to end a great trip.