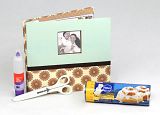 Our favorite Sunday morning breakfast is cinnamon rolls. Usually, Joe gets up early with Lucy and lets me sleep in, and there's nothing better than waking up to the smell of cinnamon rolls baking in the oven. Yum! Pillsbury's new flaky cinnamon rolls are made with Cinnabon cinnamon and butter cream icing. Double yum!
One of you will get to try Pillsbury's new cinnamon rolls. Pillsbury and MyBlogSpark are giving one of my readers a gift package that includes a coupon for a free package of Pillsbury's flaky cinnamon rolls and a scrapbooking kit that includes a scrapbook kit, scissors and glue. You can also go tohttp://www.myblogspark.com/uc/main/42b1/ to save $0.70 on one can of Pillsbury Flaky Cinnamon Rolls with Butter Cream Icing!
What you win:
A coupon for a free package of Pillsbury flaky cinnamon rolls and a scrapbook kit.
How to enter:
1. Leave a comment telling me what your favorite Sunday morning breakfast is.
2. The giveaway ends at 5 p.m. EST on Friday, Nov. 19.
3. The winner will be notified by email and will have 48 hours to respond.
Extra entries:
1. Write a blog post about this giveaway and link back to it — 5 entries
2. Tweet about this giveaway — Win Pillsbury flaky cinnamon roll and scrapbook prize pack from @cadifi http://tinyurl.com/23rfrzh (please leave either your twitter ID or the url of your tweet in your comment) — 1 entry a day
Pleave one comment per entry, i.e., five comments for a blog post, one comment per vote. Remember to come back every day and enter to increase your chance of winning!
This giveaway is sponsored by Pillsbury and MyBlogSpark. I was given a gift pack for this giveaway.