it's been a while since i posted because my mother-in-law and sister-in-law gave me scrapbooking goodies for christmas! rachel gave me this gift bag *filled* with everything from paper, stickers, die cuts, etc. my mil gave me a jewish-themed kit, which i really needed because i couldn't find any paper i liked for my hanukkah pages.
on friday night, joe and i each opened one gift. surprisingly (for him at least), we gave each other the same thing: he got an mp3 player and i got an ipod. i gave him an mp3 player rather than an ipod because he wanted an fm tuner. the one i got is so cool because it's so small and sleek. he loves it, and i love my ipod. it definitely got some good use last night at the *long* meeting i covered.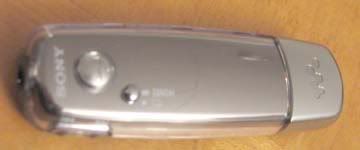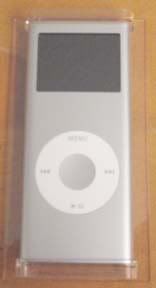 from what i hear, santa may be bringing a holster for my stocking. yay. i've been mentioning that it would be handy since i like to listen to my ipod now while i'm cleaning or cooking but i wear pajama pants when i'm home.
we had a great time at joe's parents' house sunday night for hanukkah. my parents were supposed to come, but my dad got really sick friday night, so my mom came with my brother and his wife. it was fun to have my family there to see everything, and i know they had a lot of fun.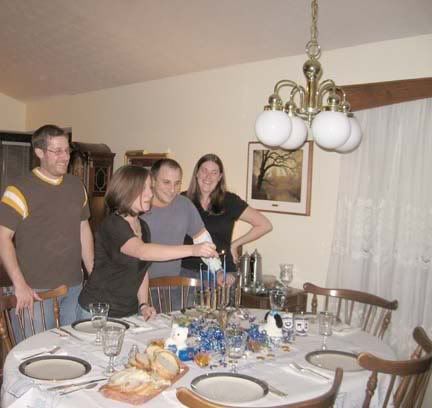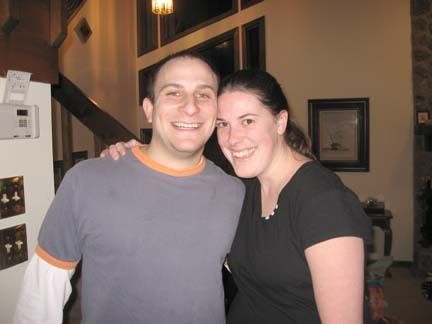 we got some really nice presents, too. joe's parents gave us a scanner. yay! we were really surprised and excited about it. we were planning on getting one anyway. we also got several more pieces for our china collection from joe's parents and nana. rachel and dave *loved* the scrapbook i made them. i was really happy about that. rachel said that even ifi it was ugly she would love it, but she thought it was beautiful. everyone did, really. it made me feel really good.
last week, we had our kiwanis club's christmas party at the local country club. we weren't able to go last year, and everyone was nice enough to say a wednesday was ok so i could go. i have meetings just about every other night. it was a lot of fun to hang out and talk with everyone. i got to meet some spouses i hadn't met yet. it's funny because most of our members are members with their spouses. hehe. it was a really nice time.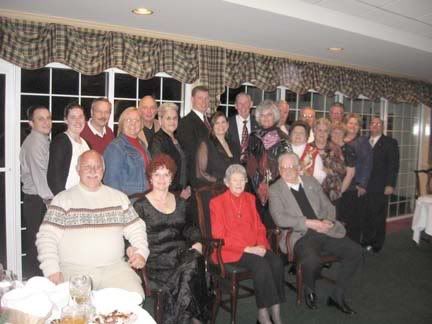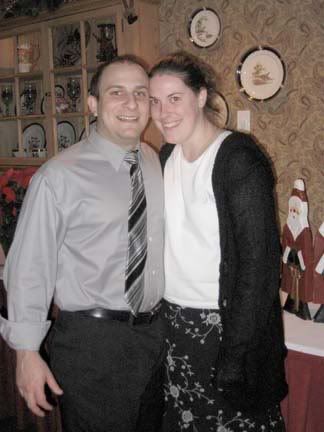 this is our last week of work. we're both off next week. yay! we're heading up to my parents' sunday afternoon for christmas. we always go to the christmas eve service at church, and then head home for our traditional chow mein dinner and presents, as well as the reading of the christmas story. on monday, joe's parents are coming up for christmas dinner and our traditional after dinner movie, which will be a lot of fun. i'm excited for them to share in our traditions now.